Andrea Koch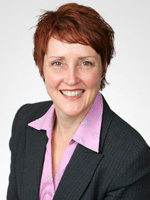 Andrea Koch is an agricultural soil policy specialist with a 'digital' lens. Her focus is on how farmers can use big data analysis and digital technology to improve how they manage their soil system, and achieve better productivity and profits as a result.
Andrea believes that agriculture (cropping in particular), is transitioning from the green revolution paradigm based on genetics and chemistry, to a new paradigm based on managing the soil/water/plant system. What will make this paradigm scale up to industrial levels is sensing technology, telemetry and big data analysis - the 'Internet of Farm Things'.
Farmers will have a four dimensional digital view of the soil and water system in their paddocks, and will grow plants by managing the system to optimal levels, including the soil's natural ability to cycle nutrients and make them available to plants. This new approach takes a highly nuanced approach to inputs.
In her previous role, leading a soil policy think tank project at the US Studies Centre, Andrea focused on how states, nations and the international community view the soil resource, and how this translates into public policy for agriculture, natural resource management and issues of sustainable development.
This followed a career in strategic marketing and product development in the telecommunications and media sectors, after which she took a change in direction and focused on sustainable food and agriculture with a particular focus on soil.
Andrea is from a fifth generation farming family from the mid-North of South Australia, so matters of the soil and agriculture are in her DNA!
Her education and experience includes:
15 years in IT, telecommunications and media, with IBM, Optus and News Limited
6 years soil policy thought leadership within the agricultural R&D and policy sectors, US Studies Centre
Bachelor of Business (Marketing)
Master of Sustainable Development
Andrea is an Adjunct Associate Professor at the University of Sydney. She also chairs the Food and Agribusiness Sub Group of the IoT Alliance Australia.
Andrea is a skilled communicator and writer. To talk with Andrea about speaking at your next event, please contact her at [email protected] .